Purpose
This resource introduces strategies to improve the learning outcomes from practical work in science. You can:
gain insights into the purposes of practicals and reflect on your own practice;
explore how to plan practical work more effectively; and
use the toolkit library and links to improve the quality of your practical work on an ongoing basis.
The activities will engage you in reflective practice and map to the Institute for Learning's (IfL) model of Continuing Professional Development. A log relating to the exploration of this resource can therefore be counted towards an individual's 30 hours (pro-rata) CPD requirement. IfL members can use the Reflect tool to reflect on their professional practice and record the many and varied CPD activities undertaken to enhance their teaching.
Structure
There are four modules, plus:
A toolkit library where you can access all the files used in the modules in one place; and
You can work through all four modules sequentially or go straight to a particular module of interest. Navigate to the module of choice using the left hand menu. Within each module, you can access all the activities and associated resources and links by using the right hand menu.
Opportunities for individual and group work
The activities are designed to be used by individuals or groups. You may want to work through them as an individual to reflect on your own practice. Alternatively, you could work with a colleague or in a small group. If working as a group, you may want to project the activity onto a big screen for ease of viewing and use flipcharts to record ideas arising from discussion.
You could ask different groups or colleagues to carry out the activity independently and then come together to discuss outcomes and plan future practical work together.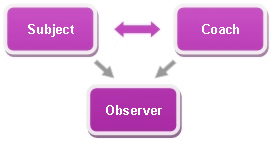 Coaching conversations can be particularly useful for discussing the issues in groups of three as subject, coach and observer. The subject answers the questions raised by the activity. The role of the coach is to ask questions which enable the subject to explore the issues, not to make judgements or give opinions. The observer will monitor the process without intervention and may, if desired, record the key aspects of the conversation, allowing a later, objective feedback loop. Prompt questions for discussion are provided in many of the activities to scaffold the discussion if necessary.
There are also opportunities for facilitated face-to-face CPD sessions delivered by the Getting Practical programme.